Tony Cohen, Owner of The Illustrated Man Studio, has been tattooing for 49 years. He earns his living by permanently marking people's artistic ideas on themselves – ideas, which he says are always "weird".
LP: How did you get into this?
TC: I was interested in tattoos from the age of 12. Then, I got my first tattoo at 14 years old and starting inking other people. From there, I got my first proper set of equipment at 17 and dabbled for a year or two. One day my father saw what I was doing on a friend and said to me, "You should be charging money for that."
And then, well, the rest is history.
How's the industry changed from when you started?
When I started there were only a few studios. We made everything ourselves in those days, I am talking about making millions of needle bars, building our own machines. We'd sit up all night doing $5 tattoos, drawing free hand. Today it's different – there are more tattoo shops than Chinese restaurants.
Do you still draw freehand?
It depends. Some people come in with designs they've done up themselves. Other times, absolutely.
Have you ever said no to a tattoo?
Absolutely.
Why?
Some people are drunk, some people are ignorant, some people are playing the fool. Some people shouldn't be getting tattoos in the first place… you know, they might be asking for symbols that are disrespectful; or that they'll regret.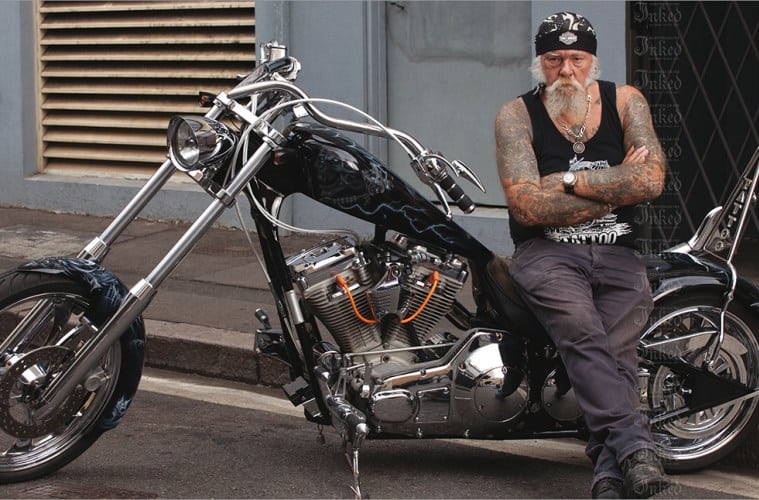 What's the weirdest tattoo you've ever given?
They are all weird! So weird in this sense is a relative term… And there's a lot. Off the top of my head, maybe a full back piece of a unicorn that went across an entire lady's buttox to her shoulder blade.
Can you predict what tattoo a person will get by looking at them when they come in?
No, people can be very unassuming! One thing you learn in this industry is never to expect anything. There is no way that you can predict what work someone will want by looking at them.
How many tats have you given?
Hundreds of thousands. I've covered entire bodies in tattoos.
How many tats have you got?
Ha, who knows.
Talking about butterflies, what are some tattoo trends you've noticed over the last few years?
Trends in tattooing… it's interesting. They definitely happen, but generally tend to not last too long. If I had to pick one thing that is popular right now… matching partner tattoos are also very popular, and roses are back – though you know, I am not sure they ever went out.
Interview end. 
Our Footnotes:
Is tattooing the right career for me?
Tattooing is not what most people think it is. The level of competition within the industry is incredibly high and to make a decent income as a professional takes consistent effort on a daily basis. Work does not start and finish with the tattoo process – which in of itself is very challenging. There is also business work (tax, paperwork and logs), drawing work outside of work hours, maintenance of tattoo equipment, maintaining licensing and regular refreshing of cross contamination and first aid training.
All that aside, if you are not interested in dealing with people very intensely for long periods of time, then tattooing is not for you. Tattooing is a people service industry – your success as a tattooist will almost entirely revolve around your ability to communicate with all types of people in all manner of ways. If you are an artist who prefers the quiet and solitude and company of animals to people, tattooing is not for you.
So if you love people and their stories, enjoy drawing til late at night, can manage your accounts and have a reasonable business sense, have a very strong work ethic, can discipline yourself to work under pressure and LOVE tattoos (including getting them) then yes, tattooing might be the right career for you.
Want to find out more? Watch: 'Is Tattooing the Right Job for You? Tattoo Apprentice Advice'
I want to be a tattooist, how can I train to become one?
The best way to start is getting accredited in Cross Contamination, and do some form of art training. The goal is to present yourself as a worthy candidate for further training by a professional tattooist, and the more you have shown enterprise, discipline and commitment to this in your own actions, the more likely you will be seriously considered.
Once you have become certified in cross contamination procedure and have a portfolio of consistent artwork presented in a professional manner, you can approach a professional tattooist confidently knowing that you have created a foundation that can easily be built upon should the artist consider you for an apprentice position.