Who: Meet Michael McFadden, the supervisor of the herpetofauna department at Taronga Zoo. He oversees the maintenance and husbandry of the collection of reptiles and amphibians that they have within the zoo.
Studied: Bachelor of Science (Hons)
The Footnotes: So first things first – what is herpetology?
Michael: It's the study of reptiles and amphibians.
FN: So what does that mean you're doing day to day?
M: On any given day we usually have about 5-6 reptile keepers. We start at 6.40am and knock off at 3pm. First thing, all of our guys would check all of our animals and make sure everything is ok, and then go through and clean all of the exhibits. Following that we look after their diet- so cut up all of the fruit and vegetable mix, and thaw out fish and mice – and then we do the feeds.
Today for example, there are two presentations that our keepers do. At 11am one of our keepers will do the Komodo Dragon Keeper talk and then at 11.30 one of keepers will present the general reptile keeper talk.
Throughout the day there are lots of small modifications – checking of temperature, animal health, cleaning up exhibits, etc.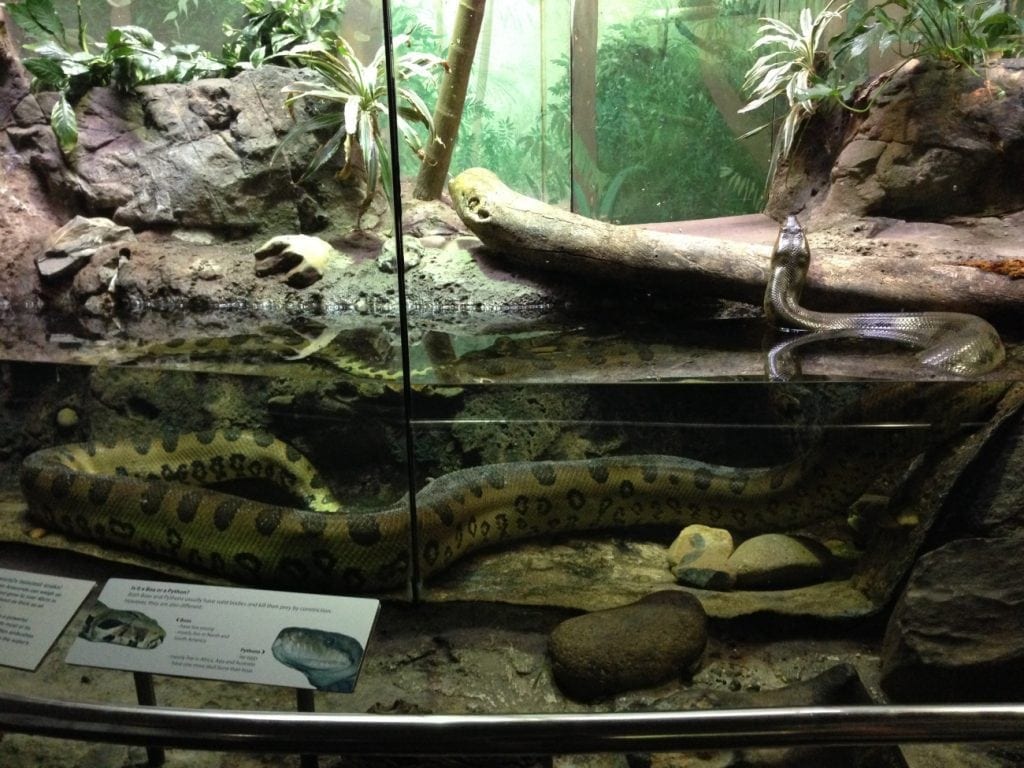 Another is working on a studbooks. Studbooks are maintained by zoo's all around the world to enter all the specimens from a species, and from that you determine who is to breed with who based on genetics and the management of the population long term.
While one of the other keepers has gone off to cut some plants to freshen up the exhibits, and give enrichment to the animals – a new branch or item in their enclosure for example – it's a new scent.
FN: Do you spend your time doing a lot of research?
M: It depends. For me, in addition to working full time I'm also doing a part-time PHD on amphibian reproduction biology, so in summer I'll go to Mount Kosciusko maybe 7-8 times a year for survey work. Most of our reptile keepers come out to the field at some stage during the season.
FN: Do you do any conservation work?
M: Taronga is actually one of the more progressive conservation departments and we have a number of programs for a whole range of animals such as the Southern Corroboree Frog, the Northern Corroboree Frog, the Yellow Spotted Bell Frog, a skink and a gecko from Christmas Island, and another for the Belinger River Turtle.
Back 15 years ago, 100% of the work within our department was our collection animals – so our animals that are on display to the public, for the purpose of engaging the public with reptiles and telling different conservation stories.
Today, about 50% of our work is off exhibit- working in different conservation facilities on certain species to make sure they don't go extinct.
In 2015 the Belinger River Turtle was near wiped out due to an undescribed virus moving up the river. We were able to bring in an insurance colony and we have had successful breeding – last season four out of our five female laid eggs and we hatched out 22 young. We look at a range of reintroduction strategies to try and build up their numbers in the wild.
FN: Wow, I didn't realise zoo's had so many programs like this.
M: Most of the public who come to the zoo do not actually see these programs, but it's all happening and without the intervention of the work we do, species would be extinct.
Conservation isn't just about maintaining them here at the zoo. It's about protecting them in the wild and ensuring that the wild population remains into the future.

Michael in the field doing conservation work at Kosciuszko National Park. Source: Taronga Zoo
FN: That sounds like really important work!
M: Well conservation is one of our main roles, but one of our other key roles is to train people to know that the only good snake isn't a dead snake. We need to engage people to live with wildlife for the safety of wildlife –
to not fear it, to not try to kill it, and to have a healthy respect for it and live alongside it.
FN: What did you study?
M: I did a Bachelor of Science (Biology) at the University of Technology, Sydney. I then did my honours on an endangered bird species- the Regent Honeyeater. While I've always been a reptile and amphibian person, I chose this animal because it was an endangered species and I wanted to work in conservation biology.
FN: So you don't need to specifically study amphibians and reptiles at uni?
M: No, but it is useful – report writing and computer-based skills are important given all of the conservation work we do. One requirement that everyone who works at the zoo must get sooner or later is a Cert III in Captive Animal Management.
I did my honours project here and then applied after I saw some jobs open at the zoo after I saw the opportunity for conservation work to be done. I've now been here for 14 and a half years, and my specialisation in herps has come through experience and passion.
In my department there are about half of us who don't have degrees but are passionate about reptiles and amphibians and have worked at other institutions.
FN: If not at a Zoo, where else can a herpetologist work?
M: One of our staff members worked at Ocean World, another at Sydney Aquarium, and another at a breeding facility in the US before they came to Taronga. There are also options at universities- but they're more academic.
Others I know do environmental consultancy work doing fauna surveys, either in new national parks or on site at spots for potential development. There are also not-for-profit conservation organisations such as the Australian Wildlife Conservancy and they employ people to maintain their properties and do field research there.
FN: So how would someone get into it and start gaining experience?
M: It is quite competitive- we usually have well over 100 applications when we advertise a position. Most of our keepers come through our casual intake and develop experience that way.
One of the main ways to get experience though is through volunteering. Almost every wildlife park or zoo has a volunteer program and it gives people a great opportunity to build skills and experience. In Sydney for example you've got the Australian Reptile Park, the Sydney Aquarium, the Featherdale Wildlife Park – so many. 
FN: What's your favourite reptile?
M: The Komodo Dragon – they are such a magnificent beast and very intelligent. We have one at the zoo called Naga.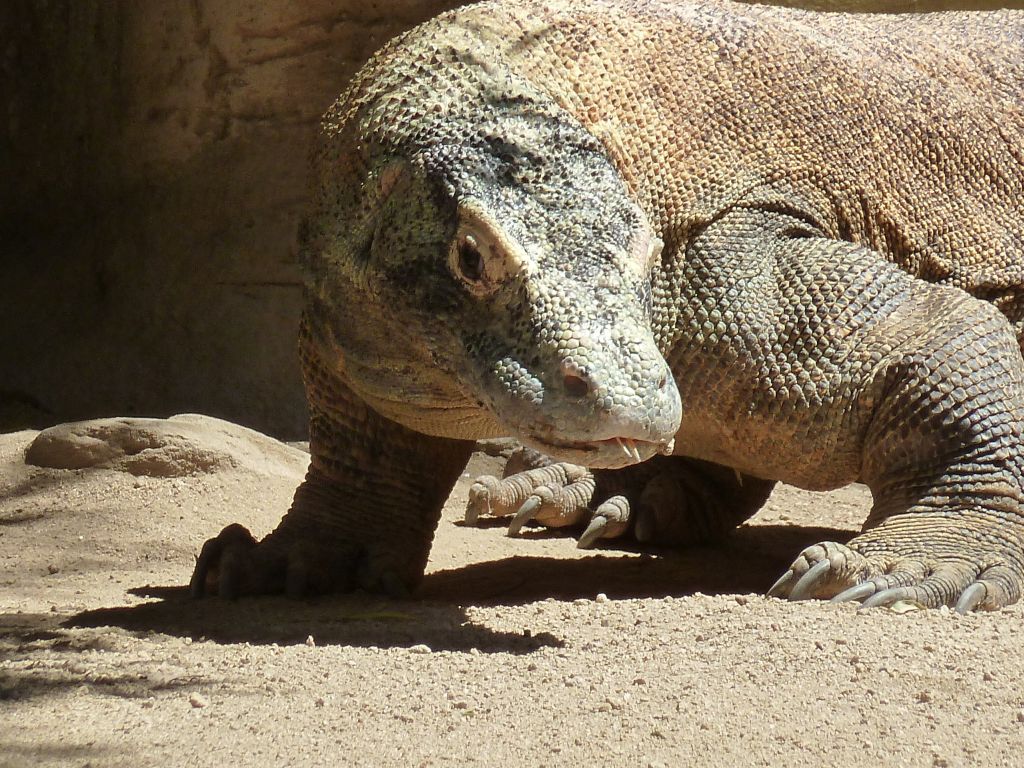 FN: Have you ever been bitten by a venomous snake?
M: No
FN: What's the most common question you get asked during exhibits?
M: Is it venomous?
Interested in herpetology? Apply for a volunteer program or look into the same degree that Michael studied- a Bachelor of Science.