We said 60 seconds and we meant it. Let's get to work.
The perfect email should be…
Direct but not forward.
Short but not incomplete.
Sharp but not pointy.
Emails are like Goldilocks: they has to be just right.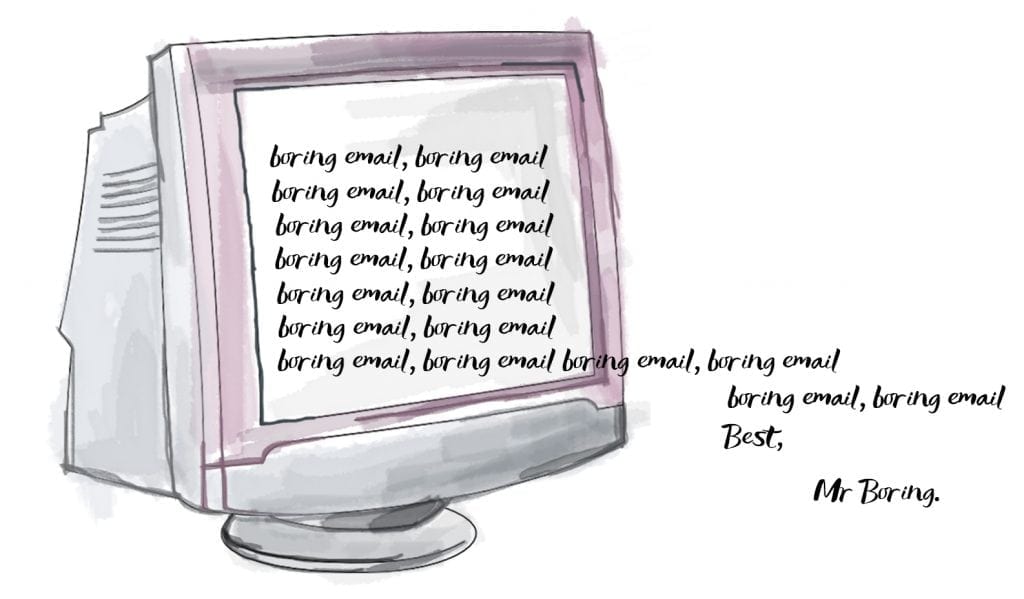 People take email etiquette as a good indicator of how you handle yourself in general, so here are some of the things that matter:
Use a professional email address. (firstname.lastname@gmail.com). It's time to say farewell  to drop.dead.gorgeous@hotmail.com.
Don't be boring but don't go crazy. Emails follow a template and they follow them for a reason (namely clarity and to not be total time suckers). That being said you can absolutely pepper your comms with a little personality after some time but make sure you 'read the room' aka take cues from the person you're emailing. Would they be cool with a 'Cheers,' or initial sign-off?
Be careful when typing your reply directly. The last thing you want is to slip and have it sent too early. To avoid this embarrassing mistake (trust us, we've been there) add the email address right as you are about to send.
Remember that simple writing is persuasive. A good argument in five sentences will sway more people than a brilliant argument in a hundred sentences. Don't fight it. You don't know what their inbox looks like, they could have 100 emails a day (or 5) to sort through. Keep it simple and to the point.
Your first sentence needs to grab the reader. It should make you curious enough to keep reading. That's the key.
Put a lot of effort into your subject line. It should be clear, identify the topic and not spam-y. Ask yourself 'What are they interested in hearing from me?' and/or 'What is this email about in 5-7 words?' and then clearly indicate that in the subject line of your email. Avoid a single word. Seriously. Just don't.
Build a personal connection where possible. Finish your email with commentary that makes them remember you as an individual outside the context of the email. Personal branding 101.Chances are you either talked about something hilarious or horribly awkward in your time together… so reference it. e.g. Check out [link to XYZ] Thought you'd enjoy it.
Now, get out of your inbox and read  the worst email (related) mistakes that you can make.
Or check out our job finder (you're ready).