What you know:
Memorising specific, accurate, relevant and detailed examples is one of the most important keys to your success.
What you don't know:
Specific, accurate, relevant and detailed examples
You need to be spending time SPECIFICALLY memorising information. That's the difference between a 15/20 and an 18/20 in an essay, a 3/5 and a 5/5 in a short answer question.
The technique I used to memorise statistics was work sheets.
Basically, I would write out my own worksheets with blank spaces, photocopy the worksheets a hundred times, and fill out the worksheet 5 times a day for weeks and weeks.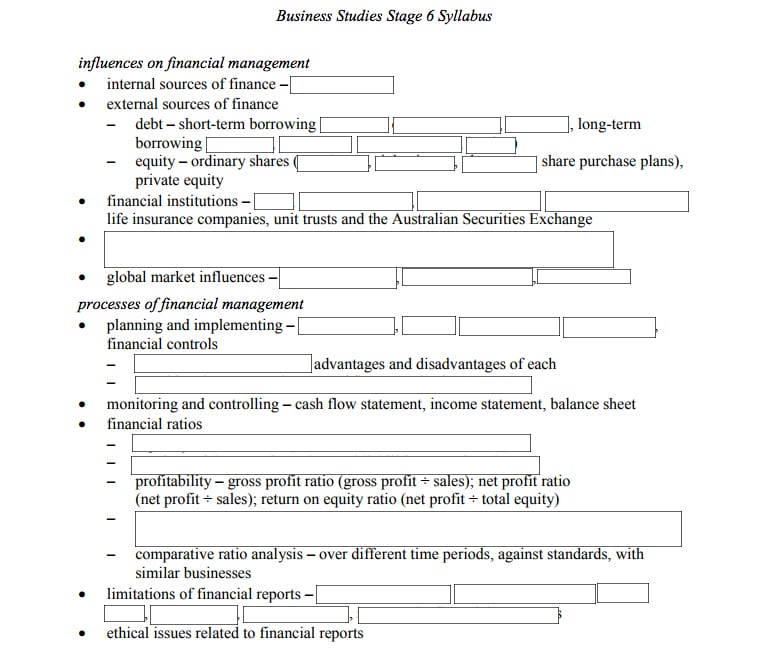 Sounds simple right?
But I bet most of you haven't thought about it, and none of you have implemented it.
And seriously, it is the best thing you can do for yourself to memorise content.
Step one:
Start by writing a set of 'super' notes. These are BULLET POINTS. (unless you are doing business, then it's the entire syllabus)
Step two:
For each bullet point in your super note you need to write the absolutely crucial statistics that you are planning to remember on a worksheet.  Make a worksheet for each topic, and use it throughout the year to help you learn what you need to learn!
Basically, you want to be writing out a summary of your 'super' notes, leaving out the crucial information and putting in a blank space/underline. (here's an example)
Then… fill in, repeat, fill in, repeat.
Step three:
Keep doing this. OVER and OVER. Till you get to the point where you can write the whole thing without a prompt.