It's different for everyone and you've got to do the hard yards, but here's some sage advice from someone already in the game.
Name: Maddie Hale
Current Job: Sky News Producer and Journalist
Studied: Bachelor of Communications and Media (Majored in Journalism) at Notre Dame University
Interned: Channel V and Channel 9 (Today Extra and The Today Show)
Footnotes: Watch the full video for all her footnotes and what she does in her job
Tip #1 Get a job in TV and work your way up 
Interning, or just working behind the scenes in digital or producing – just making sure you know how it all works. Digital is a great place to start – I started there.
Tip #2 Speak up and ask for more responsibility
The industry is so fast paced that there won't always be someone teaching you step by step. Make yourself useful around the place.
Tip #3 Learn from the bottom up
You're first job will never be doing your dream job – you need to learn the basics and how a whole show comes into play.
It's not about being the bottom of the bottom, and knowing your place. I honestly think that you'll become a better worker if you know every aspect to the job. And that starts at the bottom.
There are a lot of internships and work opportunities available, but you need to put yourself out there if you want to get an internship in media. No one is going to hand something to you so you need to push people and annoy them a little – though don't be overbearing!
Tip #4 Expect that it's not going to happen straight away
It all takes time. You won't get the job that you want straight away and won't even get an internship straight away.
And it can be disheartening. You think, 'What am I doing?! I've been working free of charge for two years?" And then it still took me an extra six months to get a job.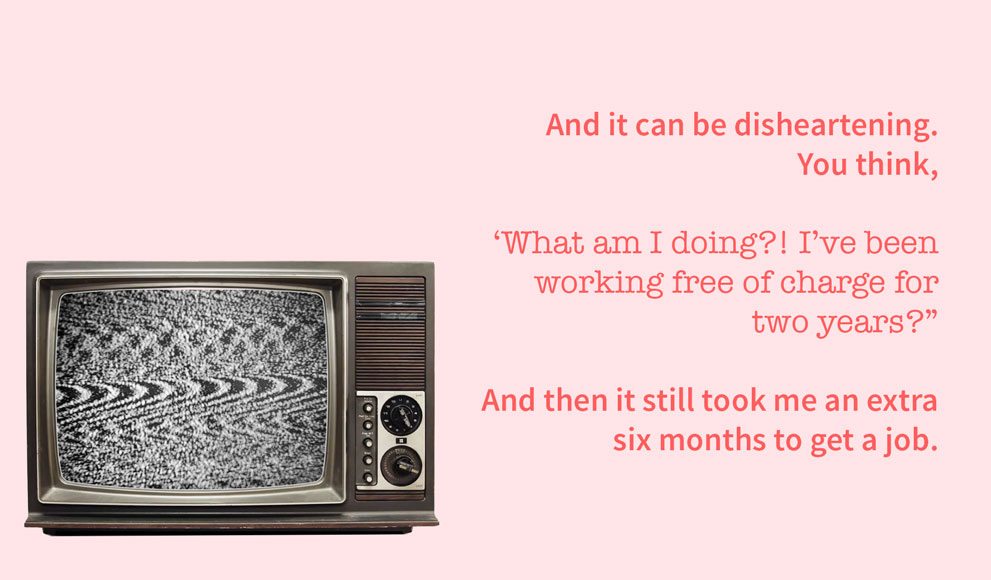 Tip #5 Meet as many people in the industry as you can
Just keep picking people's brains and meeting them for coffee – anyone in media – who could lead you onto the next person.
When you come out of uni, you don't really know the options and what is out there. Meeting people can give you more insight into the industry than just throwing yourself into a job straight away.
Tip #6 Attitude is everything
This is an industry where a lot of people you're working with may want the same job. Never go into a job and kick up a storm saying that you want to be on TV – so does everyone.
Keep it to yourself for a little bit then when you think you're ready voice it – and to the right people.
If you're openly bitter and openly competitive with people, everyone will see straight through it and it never pays off.
Tip #7 Learn every side to a job
Take the time to learn every side to the job- you want to be the person that people can turn to in a crisis – and know that you've put in every effort to learn every part and aspect that there is to TV.
It will make you better at your job and more valuable.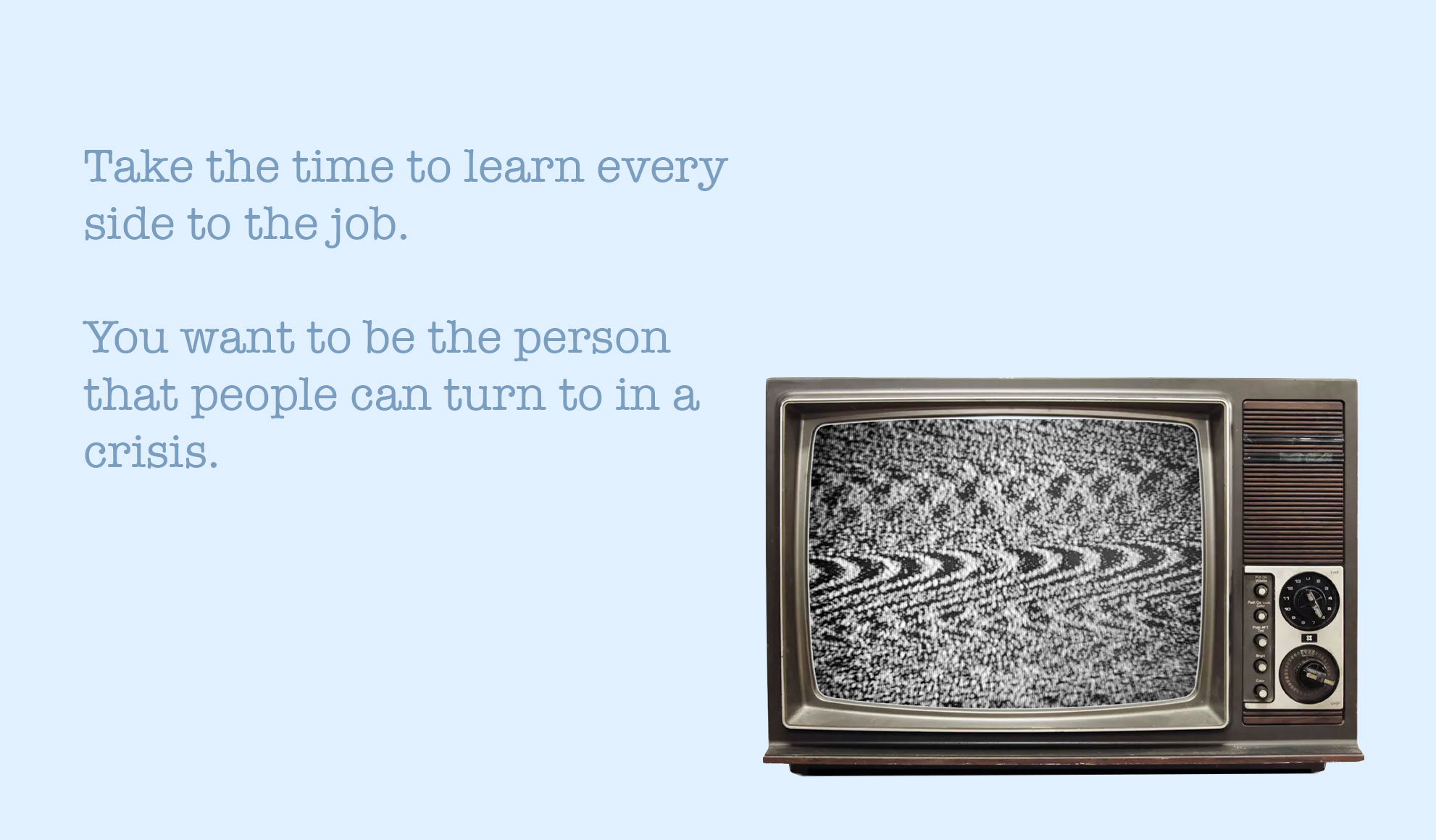 Tip #8 Stay in your own lane and ignore the others.
Don't worry about what is happening for others. Focus on what you need to do for your own path.
Tip #9 Study Journalism
I still think people hiring look for a Journalism background.
Tip #10 Make sure an internship is a part of your course
Ensure your course is practical and you're getting as much experience as you can.
Tip #11 If the work you're doing doesn't overrule the bad hours, the industry may not be for you.
It's the price you pay for the job. If you know that this is where you want to be then you'll be able to stick it out. It will pay off.
Tip #12 Start in news
Working in news (before say entertainment) gives you great skills – it's the nature of news being in the moment and the excitement of breaking a story that could be the talk of a nation for the next few days.
Still interested in being on TV? Step one – find a course that suits you and some work experience.