How to get into medical school:
Step one:
Complete year 12 or your undergraduate degree.
Step  two: 
Complete any pre-requisite subjects.
Taking any science pre-requisites during high school or your undergraduate degree is important, as it's much harder to complete these pre-requisites after graduation.
Remember too that choosing high level mathematics, chemistry, physics, biology and english will stand you in good stead as you study medicine. Many undergraduate programs require applicants to complete year 12 Chemistry.
Step three: 
Take on leadership roles at your school where you can and consider volunteering at a hospital, free clinic, doctor's office or with a medical researcher.
Note: Medical schools do not judge applications on work experience, but gaining some work experience demonstrates that you have considered whether the demands of a caring profession is for you and that you are committed to studying medicine.
You do not need an ATAR of 100 to study medicine.  Your ATAR is considered by medical schools alongside your UMAT and interview scores to calculate your ranking for entrance.
Step four:
Take the UMAT or GAMSAT (depending on whether you are an undergrad or a post grad)
The Undergraduate Medicine and health Sciences Admission Test (UMAT) score is required to apply for undergraduate admission to 7 of the 19 registered medical schools in Australia.  You will be assessed on your skills in critical thinking, problem solving, understanding people and abstract non-verbal reasoning – abilities considered important to the study and later practice of medicine.  A good score on the UMAT, in combination with good grades, a high university entrance ranking and volunteer experience will stand you in good stead your medical school application.
Once you are into medical school, here is a visual guide that shows you the process to becoming a specialist doctor.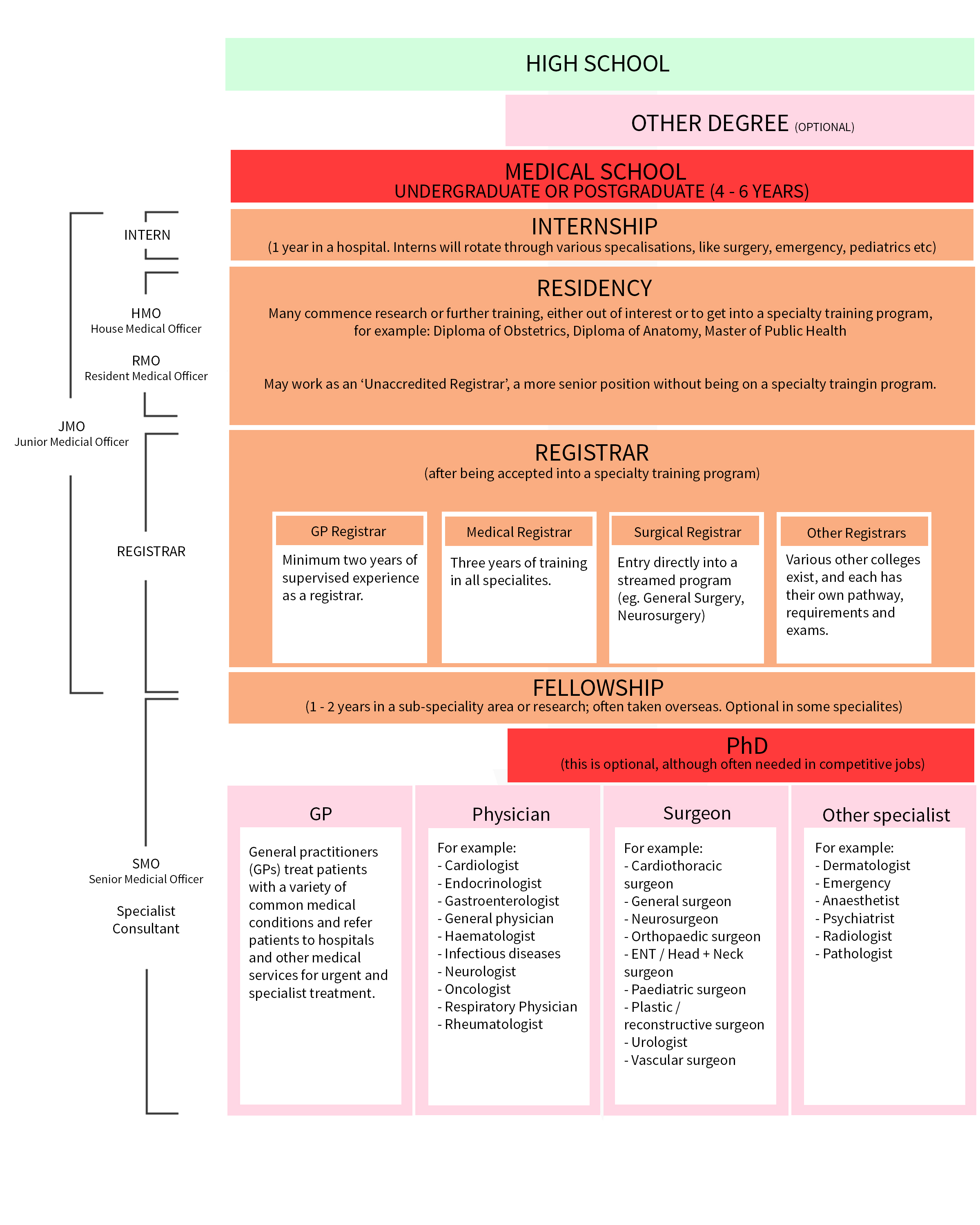 These universities currently offer undergraduate placements:
New South Wales
Northern Territory
South Australia
Queensland
Victoria
Tasmania
Western Australia