How does a magazine come together?
NL: Firstly, we work seasons ahead. So as a Fashion Editor I am watching the Fashion Weeks in Europe and forecasting what is coming our way.
When I pulling together an editorial I will have a 'theme' in mind, maybe a Valentines Day theme, or a beach theme. But we work seasons ahead, so as a Fashion Editor I am watching the Fashion Weeks in Europe and forecasting what is coming our way. I am working on January 2017's edition right now.
So I'll pull together a brief and get it approved by the Editor. Then it's about making it all happen. I am responsible for the clothes, the styling, the location, the models – all of it.
[Most fashion magazines expect at least a six page story with a theme]. So as a Fashion Editor you need to consider how you are going to choreograph all of this.
It could be two double pages and two single pages or three double page spreads and so on. Once you plan that out, you have to define each of the shots in the "Story".
Once the shoot is wrapped you need to include captions for the magazine, What brand are the clothes, how much do they cost? You need captions for everything you include.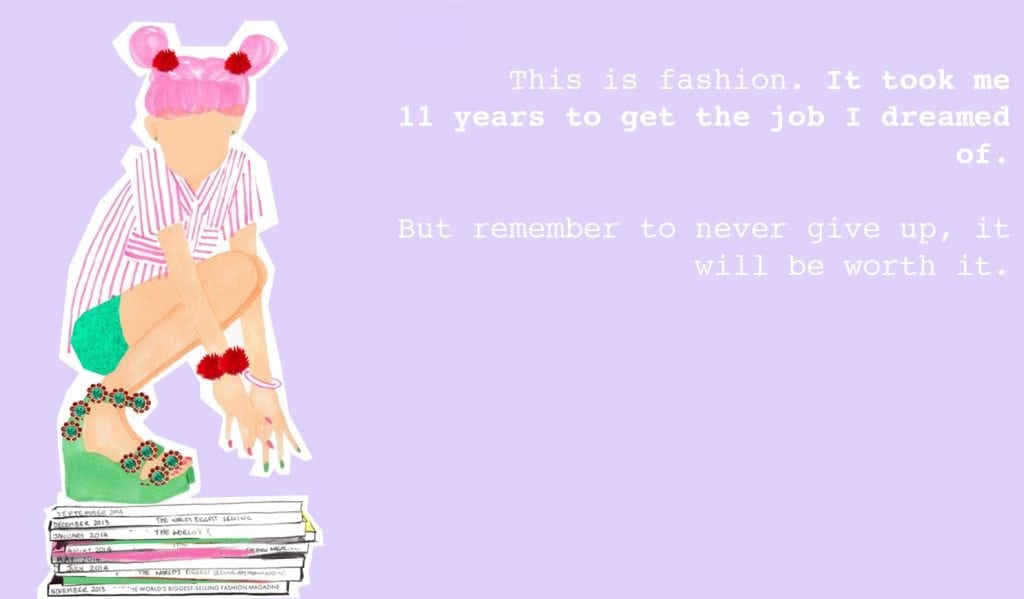 Where do the clothes come from (and do you get to keep them)?
NL: We get all of the clothes from PR companies. A lot of people think we buy them, which no, we don't, and a lot of people think that we get to keep them, sadly, no we don't!
Getting clothes from a PR company can work two ways, either I could call and say "I am doing a shoot on work wear do you have anything that can go into the shoot?" and the PR will pull all the relevant fashion items and show them to me. The other option is for me to visit the showroom, and browse through the collections.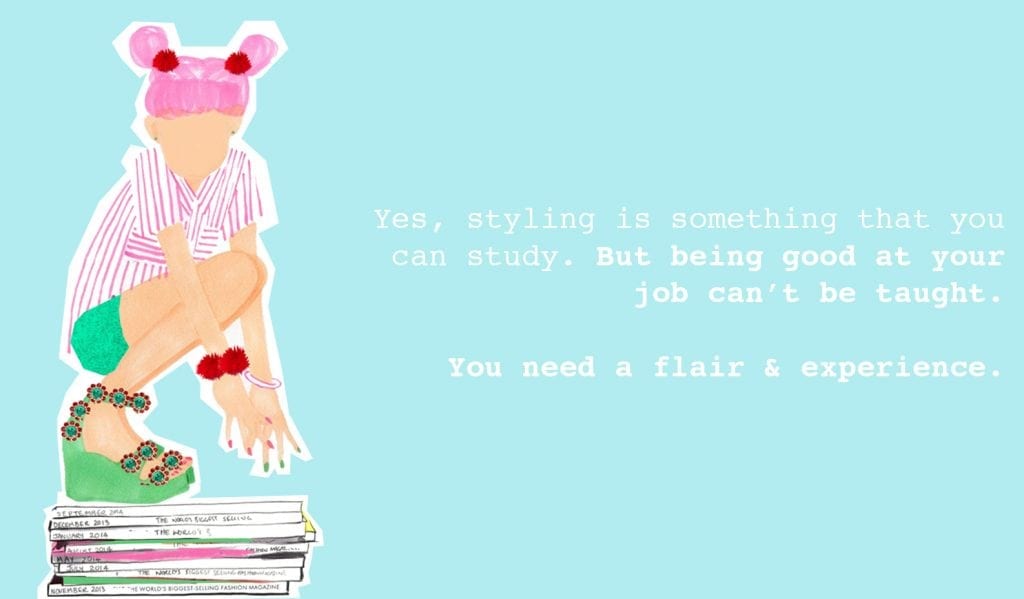 How does someone get into styling?
NL: Well, there is no specific course that is guaranteed to get you the job.
Yes, you can study styling. But being good at this job isn't something that can taught. You need a flair and experience.
First of all, you need to have a good eye. Secondly, you need to have a sense of style. While it is important to have a unique sense of style your job is ultimately to style for the brief of the client, so you need to be able to extend yourself beyond your own look.
How did you build your name in the industry as a stylist?
NL: I worked as a stylist on the side while I was working in the magazine industry. At first it was hard putting myself out there, I didn't want to come across as all, "Me, me, me". But growing my personal brand has seen land more work as a stylist, because when a brand is booking you to work with them, they know that your personality and edge comes with the project.
How do you get your foot in the door?
NL: Well it wasn't easy let me tell you that. In my time I have worked with a lot of people and done a lot of amazing and also tedious jobs (i.e. cleaning my boss bathroom, yes this did happen!). At 17 I moved from my home town in Newcastle, NSW and attended FBI Fashion College. Whilst there I interned at various magazines and PR companies & assisted many stylists, working long hours day in day out for free. I started assisting at RUSSH Magazine in the day and working at a pub at night and then moved on to be full time assistant at Madison. Then I landed a job at Shop Til You Drop Magazine. A few years later I moved to London and after three nerve racking interviews I was lucky enough to gain a position at Net-A-Porter. I worked there for 2 years as a Senior Stylist then moved back to Aus as my visa had ended. After working as the Junior Fashion Editor at Cosmo I landed my dream role at Girlfriend!
What do you love about your job?
NL: I honestly have the best job in the world. It is crazy busy and I'm often very stressed out but I'm so lucky to have a job I love so much! Six years ago I wouldn't have believed that I am where I am today.
It's hard to say the best bit… there are so many… I get free clothes, I get to go to great events, I get to work with fashion every day. It's a dream.
The industry is so hard to crack, what is your advice to students?
NL: Considering the industry is so small magazine jobs are very hard to come by because it's such a great job that people don't want to leave! Someone could be working at Elle in London for 25 years. A job will never be advertised publically, there are a line up of interns waiting to land the job inside the team. There are other avenues 'in' that students can try, like PR or even working for a design house, the best thing is to intern. It gets your foot in the door and is the best experience to have on your CV!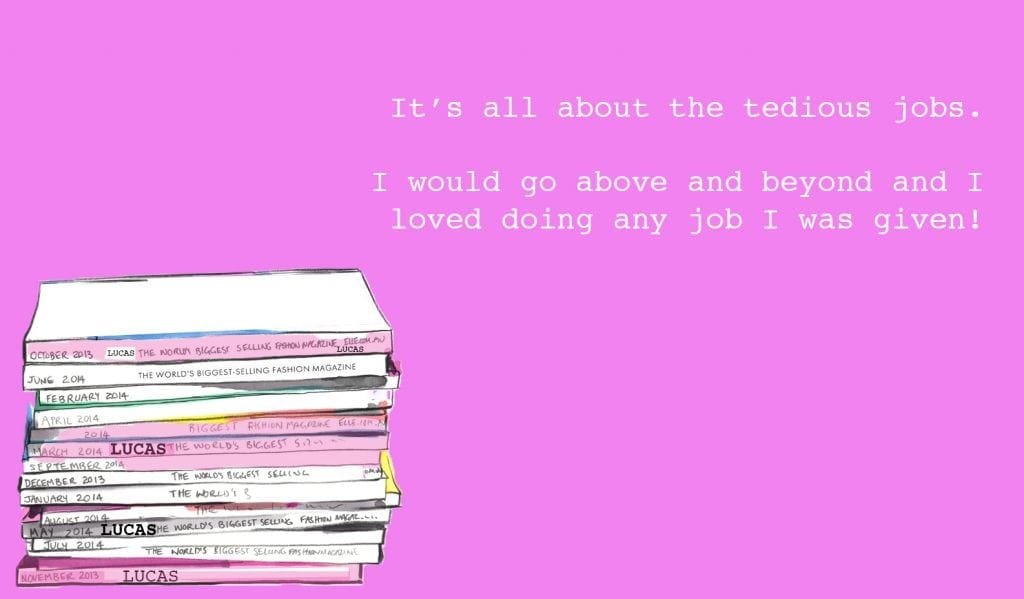 What makes a good intern?
NL: Efficiency and politeness. Willing to do anything to help and not asking to leave before 5:30! Wanting to learn more and doing it with a smile. The way someone presents themselves is also very important. Everyone has their own style (If you have seen my style you would know I'm very outgoing) but just to keep in mind you're still coming to work, so be presentable. It's good to stand out and be enthusiastic, but make sure it's not too overboard.
When I was an intern you hard to really work for your position. You could be getting coffees, arranging flowers, doing returns or photocopying. It's all about the tedious jobs but always going above and beyond and ready for the next task. Never complaining and think outside the box! I would go above and beyond and I loved doing any job I was given!
What makes a 'bad' intern?
NL: If you act entitled. It's wonderful that you're a smart go-getter, or someone who has built a social following through styling but you still need to learn and gain experience the same as everyone else.
What are your Footnotes?
NL: Ah, easy. Don't give up.
There were so many times when I thought, "I am not going to make it, this is too hard". I've been in the industry for 11 years and am 28 years old. This is fashion, it takes time to get where you want to go. If you were in a different industry, like law, 11 years might see you promoted at a quicker pace – but this fashion, it's ultra competitive.
So, never give up, if you want it enough, it will all work out.
Sound like you? Find the course you need.