FN: Why did you launch?  
Jilly: After finishing university [Bachelor of Bachelor of Design in Fashion and Textiles at UTS] I went straight into working for a fashion label called Ellery where I was assisting a lot with sampling. I was technically an intern, getting paid for two days a week and working five. For me, it wasn't really that creative, it wasn't that fun. I looked around at the team and thought – the only person I want to be in this team is the designer.
I wanted to work on my own stuff.
FN: How do you get from that decision… to launching a label?
Jilly: I went back to my retail job. I didn't exactly say, "I am starting my own label" because that was just too big for me. I said, "I am just going to do a small collection, and if people like it – they can buy it!
It was tiny – it was eight styles in a few different prints. Then I had a big launch event, which did really well and I was like, "Yep, I am starting my own label."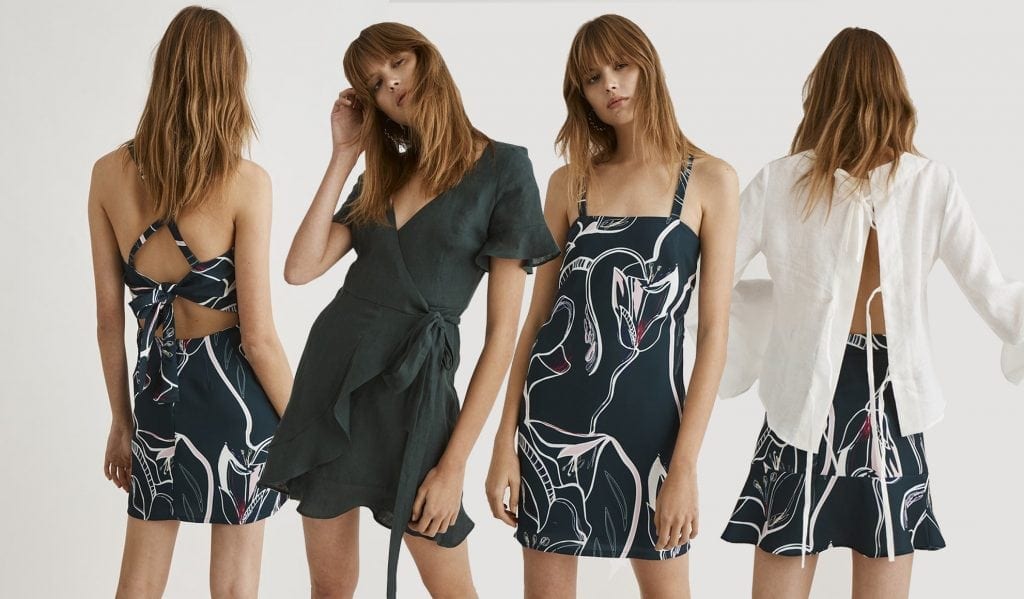 FN: Tell us about the UTS Design in Fashion and Textiles degree.
Jilly: It took me five years. So basically you spend the majority of the degree doing technical stuff, so you'll do sowing, pattern making, textile design. We did a bit of fashion business, but not much. I think we probably could have done more of it.
Then we did a fourth year where we designed our own collection. You need to design six looks. We had a runway show at the end of the year. That whole year was spent being really creative, thinking creatively. Thinking about how you could push your designs to the limits.   It was really conceptual. Which didn't really sit well with me, because I am more of a commercial designer. I like to design with people in mind and thinking about people can wear things. But in terms of being creative, it was great. When I left I had a huge bank of creative ideas that I could pull from when designing.
FN: Misconceptions about fashion?
Jilly: People think it is caty and bitchy. I think if you are in PR side of things it is a bit more superficial because you are working with fashion imagery, basically. But in my side of things it is more about design and construction and about the make of the clothing.
https://www.instagram.com/p/BkReZ9eBJdQ/?taken-by=thefootnotes
FN: What's the best thing about the industry?
Jilly: For me, the best thing about the industry is design, and being creative. I love fashion, I love fashion design. I always have. And being involved in dressing women and making women feel good in what they are wearing.
FN: What advice do you have for a young designer?
Jilly: Just do it. Just start. The hardest part is just taking the first step. It doesn't matter what your first step is. You could start making t shirts or tank tops – just something! And yeah, you are probably going to look back in a couple of years and think, what the hell were those? But it is just a step in the right direction and it's a step forward.
For me, if I knew what I knew now – I probably wouldn't have started. But then you think, look how far I have come. I am not going to give up now. I guess I could have more experience… more business experience. But I was just so keen to get started, I just went for it.
FN: How does a collection come together?
Jilly: I do two collections a year. I'll do Spring / Summer and Autumn / Winter. They way you do a collection is, you start with sampling. This goes for about six weeks and is probably one of the most enjoyable parts of the process. It's way more creative. Basically it's coming up with your designs. You could be working on a computer – or sketching – or collaging – mood boarding – colour scheming. You pull it all together and start to actually develop your designs. This is really hard. People don't realise that clothing is actually really technical and fit is really technical. You might sample a garment two or three times until you actually get it looking and fitting the way you want.
Then you make it in the real fabric. So you'll have a sample item from each piece of your collection. Next you'll do a photo shoot. Which again, is a really fun and creative part of the job.
For me the photo shoot is good because it gives me clarity about how the whole collection is coming together.
Then the whole process moves into a more technical side when you have to look at each garment and think you know, "what is going to sell?" – "what have I just put in there because I like it and it's fun?" You need to cancel a few things out to make the collection more realistic.
I like to do 15 styles. Any more than that, for me, is too much and too complicated – and too expensive. Every time you add a new style, it's more money.
Once you have your 15 styles. You work out the quantity per unit for each. I also like to do a few colour waves. Next step, you put the sample collection into production. Which for me, is probably the worst part of the process. It's really stressful. You are suddenly going from making one garment to making 40. Obviously things can go wrong, it's expensive – and it's tedious. There isn't any creative part to it. But obviously, it's rewarding – you get them back and you can start selling them.
For me that whole process takes six months. If you have a team though…. I mean some collections will pump out four collections a year!
You can check out Jilly's collection here