Living in Italy was something I always wanted to do, and now I've been here for two years with no plans to go home any time soon. I definitely never thought that I would be working as a travel journalist. How I got here is not an easy one to answer as it's been a combination of things that have lead me to this point.
Throughout year twelve I kept my eyes firmly on the light at the end of the tunnel which was my gap year. I had no idea what to study at uni. I enrolled in an arts degree at Macquarie, deferred it for a year and then wiped it from my mind. I worked for six months in Sydney, saved up and booked a flight to Europe with a group of friends. My main priority was to go back to Italy and from then I was obsessed with travelling.
After taking the year off I returned home to start uni and had no idea what I was doing. The arts degree was flexible and allowed me to choose from a variety of subjects in different areas. Out of the hundreds of options the only one that jumped out at me was Italian language. I was reassured having at least one familiar subject and chose some media and journalism units to fill the time. By the end of first semester I'd found my feet and transferred to a BA Media and majored in Journalism, while still continuing Italian as elective units.
This degree was very practical and hands on. I learned a huge amount of writing techniques, was constantly reading interesting material all of my writing had to be shared with my peers for critique so I was always getting feedback and improving. I was writing not only essays but venue and concert reviews, interviews, news articles, travel stories, memoirs and reports as well as conducting all of the relevant field work. I learnt the importance of proof reading and that the smallest typo, spelling mistake, punctuation or grammar error can jeopardise your reputation in the professional world. This was major in developing the skills I have today. It's what sets a journalism graduate apart from the rest, in a world where technology allows anyone to be a blogger with an audience of readers.
The most valuable part of my degree was the compulsory internship that I had to complete before graduation. Although I didn't know it then, it's what lead me to the work I do in Italy now. At the time, I was dreading making coffees and doing filing when I could have been finishing assignments or working to save money for my next trip. I applied at a small travel magazine and hoped for the best.
Within five minutes of arriving I was given my first assignment. An article on 'tips for job interviewing in the travel industry.' My deadline was lunch time and it was going to print in the magazine. I panicked. I had never even been to a job interview before in my life and they were expecting me to write an expert How-To piece. At that point all I wanted to do was make coffees and do filing. I gave myself a mental pep talk and tried to suck it up.
Before I knew it, the magazine was in my hands a week later with my words printed on the page and my name in the byline.
In a time when digital media is taking over the industry, this was a moment when I felt the value of a hard copy. The glossy pages, bright images and being able to hold something physical to keep and put on the coffee table at home was rewarding. Ever since then I invest in magazines in the hope of supporting the industry.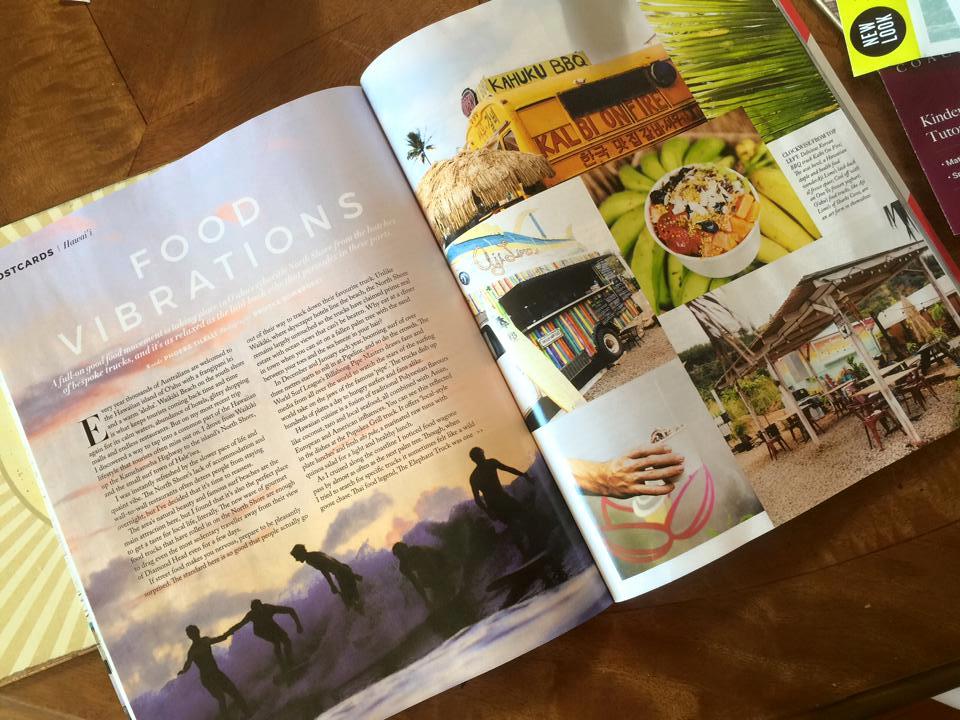 I stuck with the internship for six months, wrote several features for the magazine and was given more interesting topics as my time went on. I was sent to PR luncheons to report on new products and developments in the travel industry. These days were not easy. I'll never forget being sat at a table with some male journalists in their fifties discussing their most recent round of golf. I had literally nothing to contribute to the conversation. I tried not to skull my champagne and pretend like I wasn't dying on the inside. I had to step up and try my best to network, make connections, ask for business cards, remember their names and make sure they would remember mine. I knew that all of these cringe worthy moments were potential opportunities for future employment.
At the end of my stint as an intern I was rewarded with a week long media famil in Vanuatu with all expenses paid. I travelled independently to meet a number of other journalists who were twice my age. It was intimidating to say the least. I honestly had to wing it through a lot of situations. A media famil is a promotional trip planned with activities, hotels and dining experiences that the journalists are expected to write about for their respective publications. I was extremely fortunate and believe that these were the perks of working for a small company. My editor had the time to sit with me and go over each of my pieces with suggestions to improve my writing. A big company name can be impressive on a CV but doesn't always allow an intern to grow if they are lost in a sea of employees.
I knew that the internship was an incomparable learning experience but I didn't know how vital it would be until I moved to Italy. After graduating from uni, my boyfriend and I were on the next flight to Milan with no plan and no guarantees. He was pursuing his dream to play football in Italy and I was pursuing mine to…just live there. Before leaving I applied for the Italian Working Holiday visa which allowed me to stay in Italy for one year instead of the maximum ninety days as a tourist. Each European country has their own visa options and requirements but most have something similar to this which allows Australians to live and work in the country for an extended period.
I spent the first month travelling to soak it all in. Milan, Florence and Rome are the main tourist and expat hubs. I ended up in Modena in the Emilia Romagna region which is arguably the food capital of the country. It is the birth place of balsamic vinegar, parmesan cheese, bolognaise, tortellini and prosciutto. I don't know whether the decision to live there was made by my head or my stomach but either way, it was a choice I'll never regret. Neighbouring Bologna with the oldest university in the Western world, the city had a strong student influence with a young population, trendy restaurants and nightlife.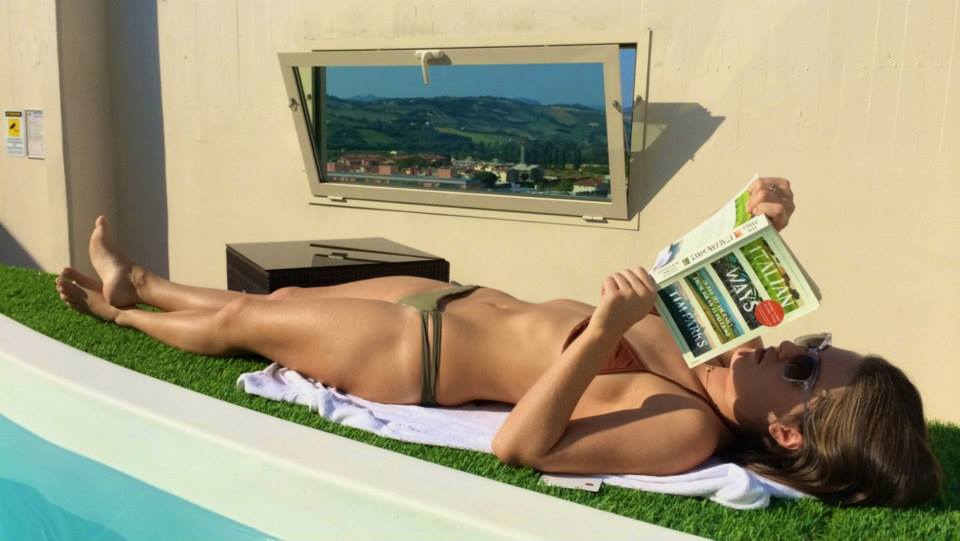 Moving overseas involved a lot of initial organisation. Airbnb rentals are an easy short term fix while visiting realtors for something more permanent. Meeting locals was a life changer when trying to settle in. One person I met not only allowed me to stay with her for two weeks free of charge but also introduced me to her friends, drove with me on a wine tasting tour, took me to her favourite restaurants that I never would have found otherwise, and connected me with someone who had an apartment for rent at a price that I could never have found through a realtor. Meeting locals was my ticket into the club. I went from being an outsider to an insider. Combined with everyone from my boyfriends' football team, I suddenly had a whole network of people that I could refer to whenever I came across a road bump. Whether it was visa issues, needing a lift somewhere or a place to store my suitcase during the periods I was travelling. I no longer needed Tripadvisor, I had local knowledge at my fingertips for everything I needed to know about my new city.
One of the complications I faced initially was that despite having a working visa I was unable to find work in Italy. I had underestimated the effects of the economic crisis and high unemployment rates that the country suffers from. The visa can only be obtained once in a lifetime so I knew I had to make it happen or I'd be giving up my only chance to live 'la vita bella'.
I couldn't afford to be shy about reaching out to people at this point. I contacted one of the freelance journalists (and golf enthusiasts) that I was sat with at lunch as an intern. He happily gave me some general pointers on how to get started and this is when I began working for myself. To start freelancing I needed an ABN. This is how I get paid and later taxed as I normally would be in Australia. The visa was no longer necessary for me to work overseas because technically I was working for myself with my own ABN which was considered to be an Australian company. However, the visa was still essential to remain living there for more than ninety days.
Over the last two years in Italy I have worked with a number of Australian and British publications including Sydney Morning Herald, Good Food Guide, International Traveller, Travel Weekly, Checkin.com, Broadsheet.com and Horse & Hound among others. Freelancing means that I have to identify my own stories. This is the hardest part. Finding original content is always challenging.
Generally, when I have an idea I research the topic in depth and decide what angle I need to take in order to match it with a specific publication. I look for potential options for interviews and take photographs to accompany the story. Most editors will not consider a pitch that doesn't have exclusive images meaning that they haven't been published anywhere else, including Facebook and Instagram.
Before I pitch it's important for me to be familiar with the publication, read their work, refer to their media kits and get to know the style and voice they use. Each publication is different and has a lay out that is signature to them. I consider what section of the magazine or website the story would be suited to. My pitches consist of one concise paragraph that explains the topic, angle and resources that I have in mind with a link to the images. It can take up to six weeks to get a response. If someone takes the bait, I'm always asked to send examples of my published work. This is when my internship comes into play. It was worth it's weight in gold because without it I wouldn't have had anything to reel them in with when I first started out. A university degree doesn't cut it. A personal blog doesn't cut it. Editors want to see examples of relevant, professionally written, published work. If I had known this earlier I would have devoted my entire life to interning while I was at uni.
When a pitch is successful I then receive a brief with all of the details and requirements. Usually the rate is calculated per word. Payment is comparable between Australia, UK and US. What makes the difference is the currency conversion. Obviously the British Pound is much stronger than the Australian Dollar so this works in my favour when dealing with British jobs.
My first job was an article I wrote about the Gelato World Tour held in Rimini. Maybe this was my stomach making decisions for me again. I saw an advertisement on a poster at the train station and I booked a ticket to the event. It was the final stage of the tour where gelato artisan finalists from around the world gathered to compete in Italy. There were three Australian contestants competing so I had an angle to tie the event to an Australian publication. I pitched the idea to Good Food Guide and was commissioned to write 500 words. A small piece but my first job none the less.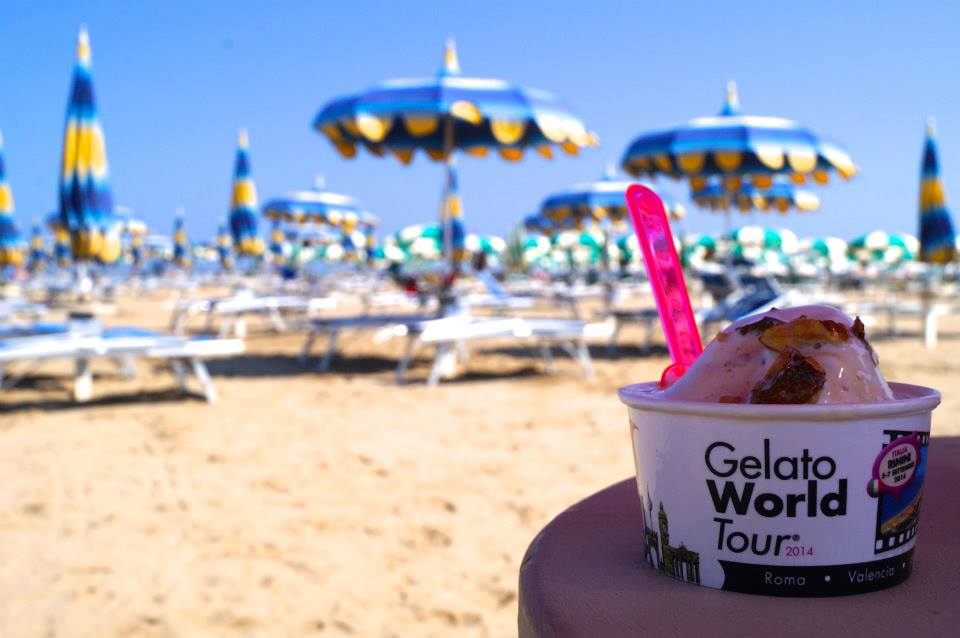 After eating more gelato than I could stomach in between press meetings, media lunches and interviewing contestants, to everyone's surprise an Australian won the competition.
I relayed the results to the editor and my brief completely changed. I then had to write 1000 words for immediate breaking news to be featured across all Fairfax media publications. I sat in an internet café typing at the speed of light into the late hours. In the morning I heard that the Sydney based gelateria had people lining up down the street.
After that, it was a strange chain of events that followed. The PR rep for the GWT was so impressed with the amount of publicity that I unknowingly created back home that she invited me to Singapore to be on the official panel of judges for the next years' tour.
I was sent from Italy to Singapore, where I sat on a judging panel among renowned chefs and journalists to taste and score every gelato flavour from the Asia Pacific contestants. I was literally pinching myself. Never did I think I would be getting paid to eat gelato. To me, this is the stuff dreams are made of. After the event I was able to write six articles for different publications, all with different angles. What started out as a 500-word piece about gelato ended up being something that opened many doors for future jobs and opportunities to travel.
I focused on travel, lifestyle and events for most of my articles and used my location to my advantage. In Italy, I found myself a niche which allowed me to get more experience than I probably would have in Sydney up against the thousands of other journalists who are trying to report on the same local topics. I have written about a bizarre mix of things from the results at the FEI Showjumping world cup in Verona, to new season fashions at MIDO optical tradeshow in Milan to interviewing a priest about miracles in Assisi.
No matter what the topic is, the important thing to me is that I write it well and get a byline to add to my portfolio.
However, for all of the perks that come with travel writing also come the downfalls. It's not all about the complimentary hotels and restaurants. Of course there is the freedom to work on what I want, when I want, where I want, but there is also the pressure to manage my own time and have the self discipline to get work done in environments where I would rather be out exploring. There is a lot of instability, inconsistency and isolation involved with working alone and depending solely on myself for every job and every pay cheque. Not having direct contact with people in the workplace makes it difficult to chase things up and there is a lot of time spent waiting for responses. My boyfriend knows all too well that the time difference means that I have to be on call during the night to respond to urgent emails from people on the other side of the world.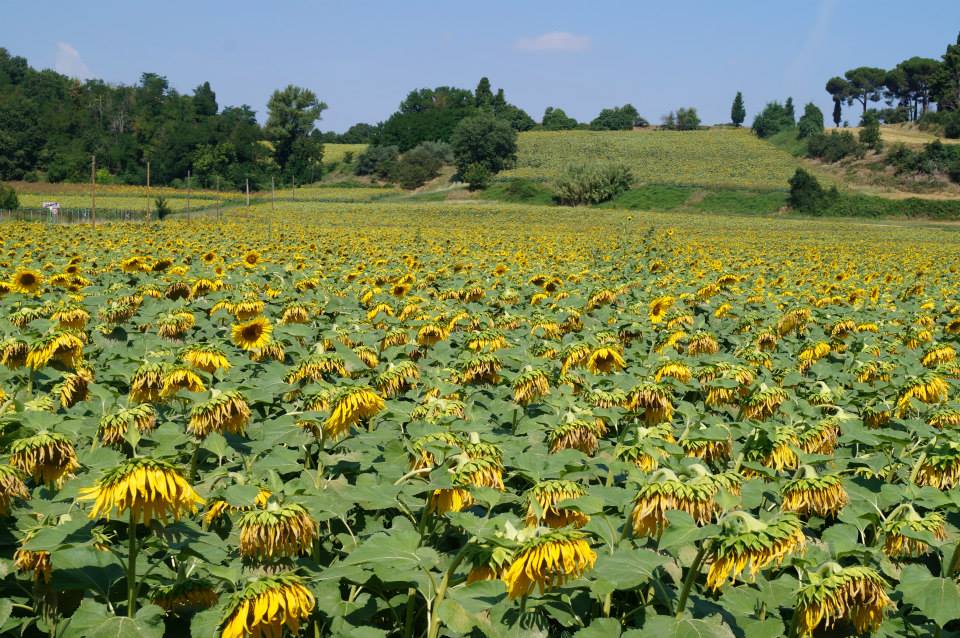 For others who want to live and freelance overseas, the choice of country is crucial. It's important to consider that with another country comes a completely different work ethic and way of doing things particularly in a non English speaking country. It can't be stressed enough how important it is to learn the language. I was able to interview and communicate with people in Italian when other foreign journalists couldn't. The best option is to be based in a busy city so that there's always something to write about. Choose somewhere with access to pubic transport so that it's easy to travel.
The motivation to hunt down ideas comes from my passion for Italy and all things Italian. Whether your interest lies in news reporting, hard hitting articles on politics or reviews on beauty products, fashion, music or entertainment, choose a country that you are passionate about and that compliments your interests.
I get inspiration from the food in Emilia Romagna, vineyards in the countryside of Piemonte, striped umbrellas on the Amalfi Coast, the lakes of Lombardy, snow covered Christmas markets in Veneto and most of all the Italian people. Being open to meeting people has lead me to find the tiny town where my family comes from and some relatives that I never knew I had. I have been overwhelmed by the generosity and kindness of the Italians who have welcomed me into their homes for a Sunday lunch or a place to stay and through these experiences I have tapped into ideas for stories or have been pointed in the right direction. Being open to another culture and way of life is the key to feeling at home and finding your way. Don't worry about going it alone. With all of the apps available it's easy to keep in touch with home and between real friends nothing ever changes.
Think this could be the career for you? Check out our course finder.