Welcome to Annotated, The Footnotes column that tackles the technical talk behind a photo. With the likes of interior designers, architects and radiographers – to chefs, economists and builders; we've curated and annotated photos from around the world.
First up we have interior design. Taking a risk with your home is a higher-stakes operation, because if you decide to paint your entire kitchen fuchsia and end up hating it, retreating to white will likely take time and money. Ditto for getting rid of the velvet sectional couch you purchased on a whim. Unless you are Kylie Jenner who has 1 billion dollars. Speaking of Kylie, here is her home; as annotated by our resident interior designer for the week, Harriet.
Harriet studied a The Bachelor of Design in Interior Architecture and works in a residential firm in Sydney.
An Interior Designer chats about Kylie Jenner's house.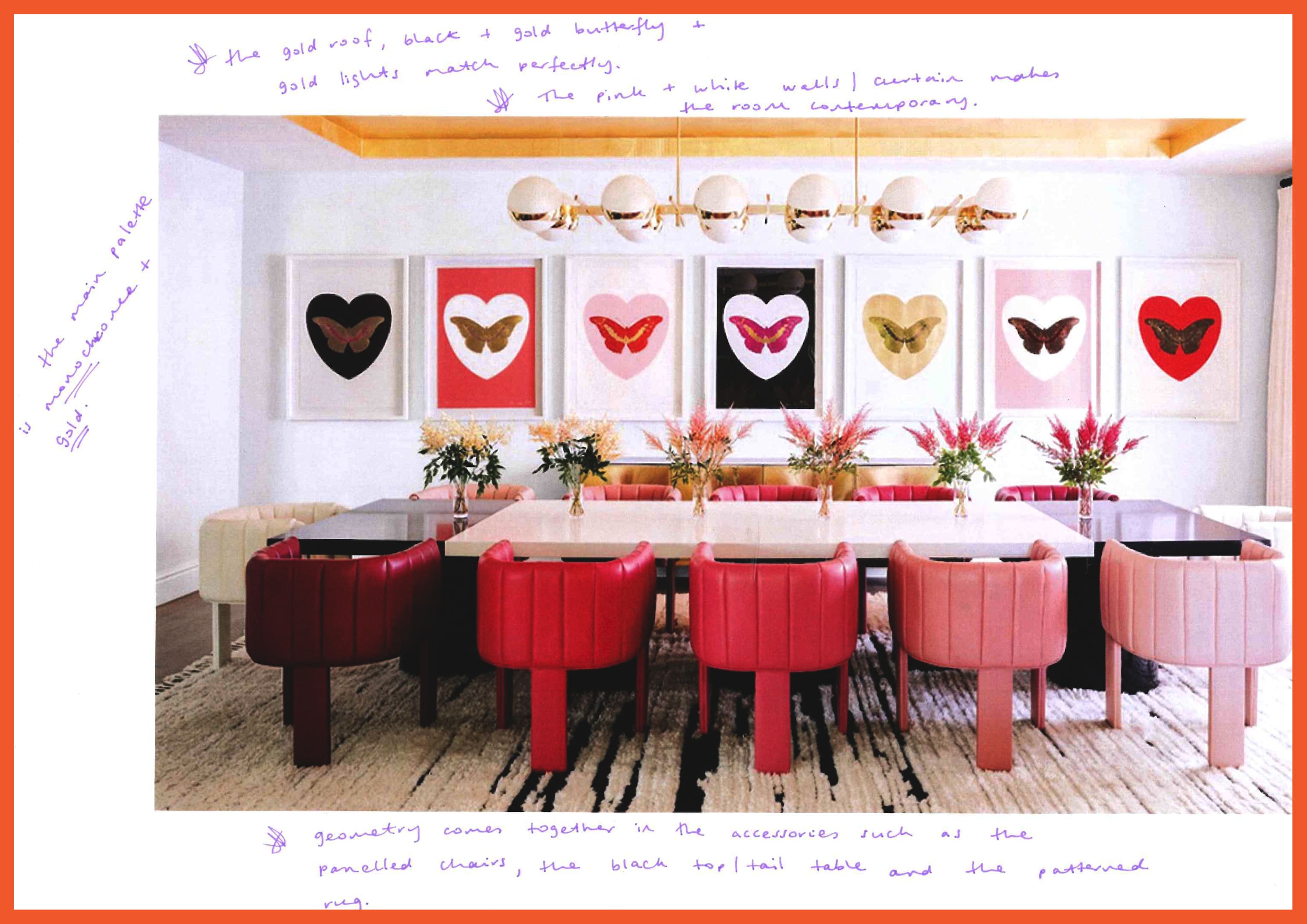 The Footnotes: Thank you for annotating, Harriet. You're our first feature !
Harriet:  No worries, sorry for using a purple pen. Probably wasn't the best choice.
The Footnotes: That's a nice seg way, talk to me about the colour in Kylie's place – and just her place in general.
Harriet: Kylie herself describes her brief in the Architectural Digest article, she says, "I told Martyn I wanted a fresh, fun vibe to match the way I was feeling. Colour was essential. I love pink, and I wanted a lot of it!" But of course, you can't literally paint everything pink. So the designer here has used other accents (metal choice, white floors, even the use of black) to make the pink pop.
I love the use of mixed metal. When decorating, people often feel obligated to pick one metal (like brushed nickel) and stick to it, but mixing metals is a great way to bring a little character to a space, especially since there are so many metal finishes out there (brass, chrome, oil-rubbed bronze). You can see this done in the living room.
Also, on the living room –  there is something to be said for the coziness of the room, which is achieved by making it a dark space. Painting or wallpapering your walls a dark colour like they have can transform your home into something completely different. Dark is generally associated with moodiness, but it doesn't have to be. I think that dark spaces mixed with other colours can be incredibly vibrant.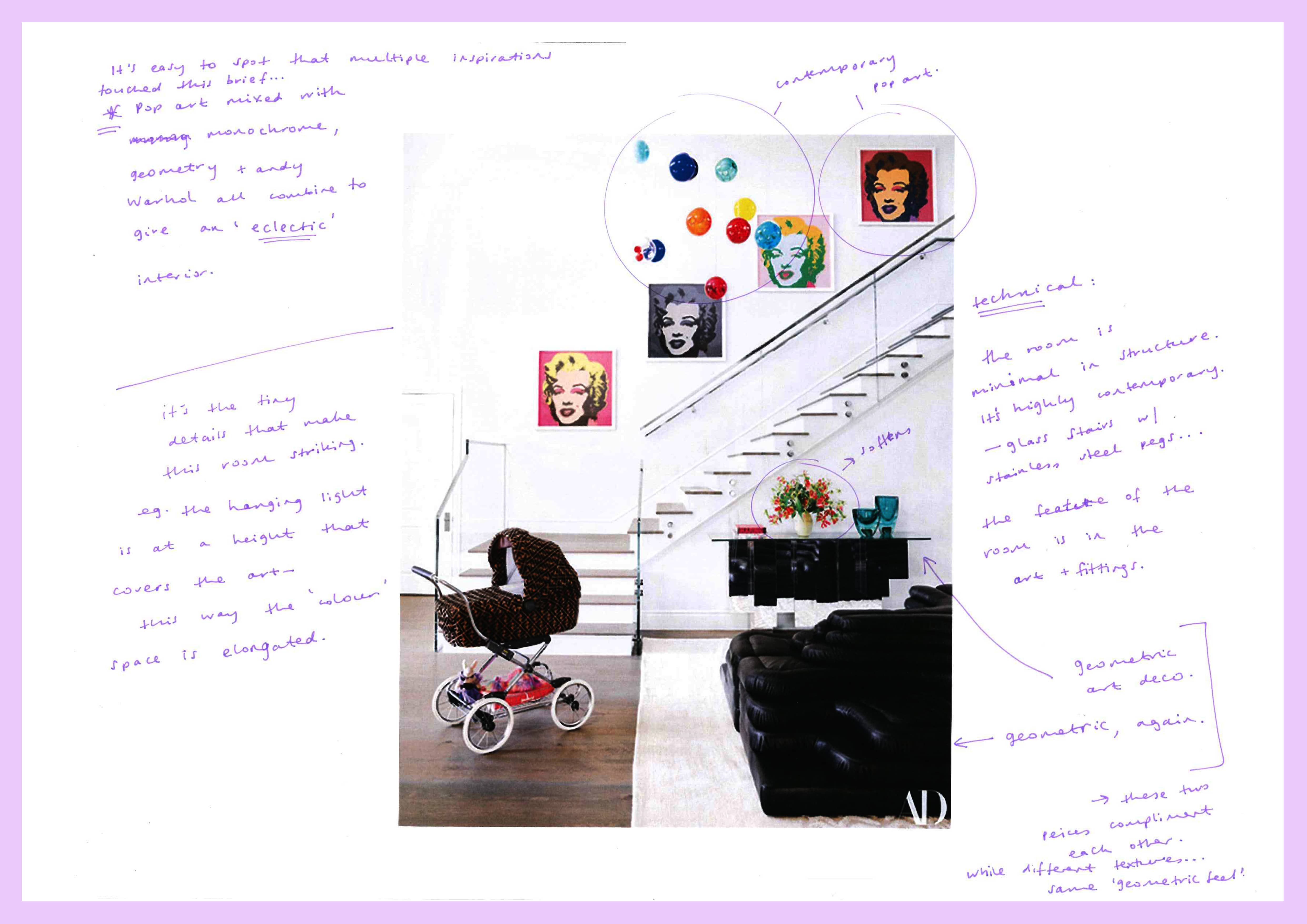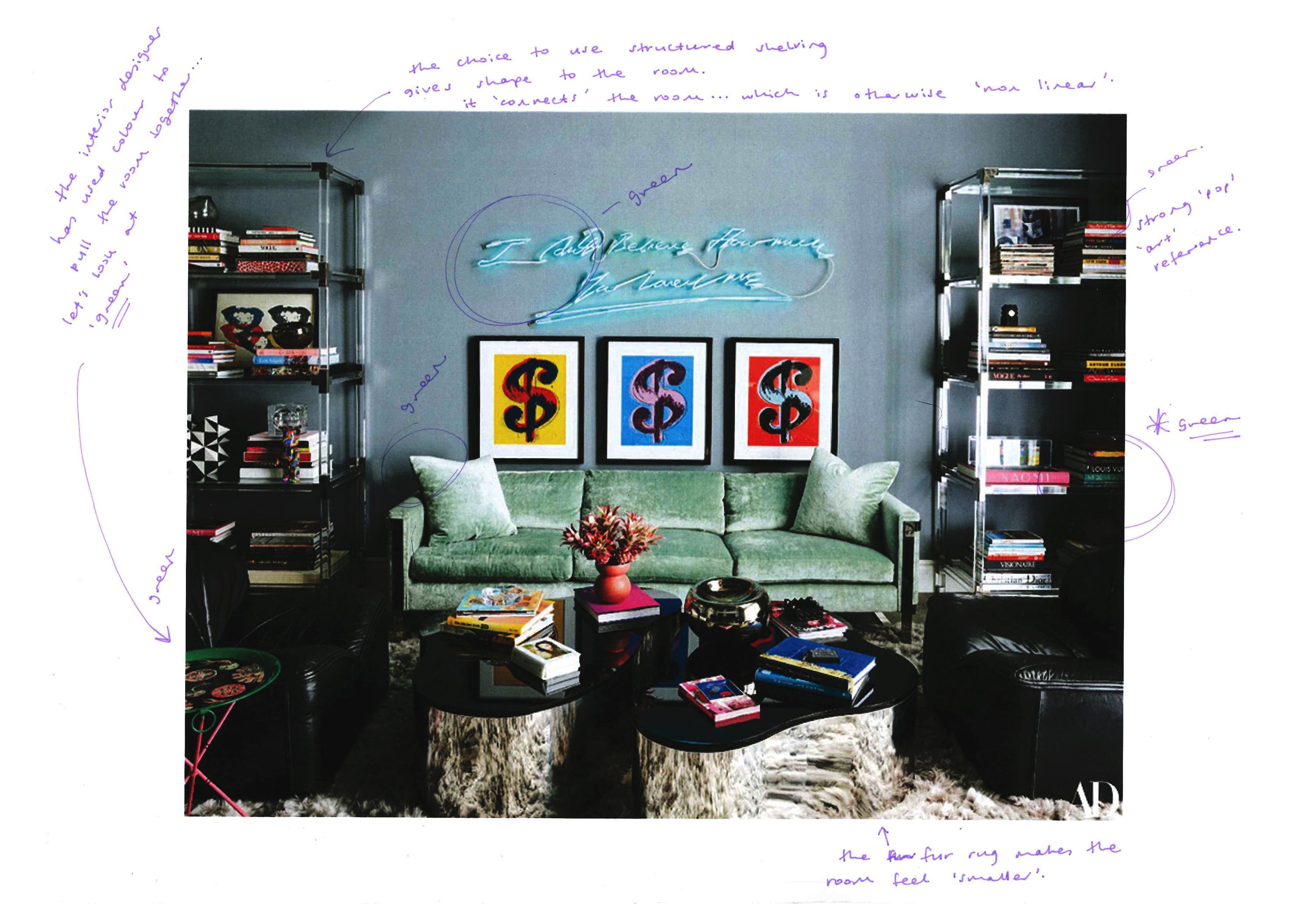 The Footnotes: So, what made you want to get into this industry?
Harriet: I had a visual arts background and interior design brought together all the things that I felt I was good at. For me, it's taking those visual arts skills and transferring them to space. We're dealing with the same kind of rules and things like repetition, colour, scale, and form. Plus, it gave me an opportunity to be challenged because it's actually quite technical.
What else do people not realise about this job? 
There's a huge misconception about the difference between interior designers and interior decorators. Interior decorators usually focus more on surface items like wallpaper, window coverings, pillows and artwork. That's certainly a facet of my job, but an interior designer is essentially formatting an interior. To do that successfully, you need to have the capacity to take a client's vision and communicate that into space.
I intuitively have a sense about how a space is going to work, but it is a process. For instance, if we were designing your kitchen, I would ask: how often do you entertain, and is it formal or casual? What types of food are you cooking?
Our Footnotes: This was your first instalment of annotated. Next up, a radiographer annotates x-rays! If you want to contribute to The Footnotes, contact us at hello@thefootnotes.com.au