Human rights law is almost social work, where you're getting people psychological care; you're helping people find housing. You're working with the most vulnerable populations in the world.
You don't set out in your education to become a 'human rights lawyer'. Rather, you just become a lawyer (or a solicitor, or a barrister, or a jurist) … and then you choose to take on human rights cases.
You'll beed to complete an Undergraduate Bachelor of Laws (LLB) or Postgraduate Juris Doctor (JD)
Find courses here
After graduation you'll need to complete a PLT (College of Law). This is the final tool you need to become a practising lawyer.
What exactly does Amal Clooney do?
Amal Clooney, born Amal Alamuddin, is one of the most powerful and respected international human rights lawyers in the world.
She was born in Lebanon, but her family fled to Europe during the war of 1982.
She got an English law degree from St. Hugh's College, Oxford; a Master of Laws from NYU, and is fluent in Arabic and French.
She clerked for Sonia Sotomayor, a former federal appeals court judge, after graduating. Here she was representing corporate clients.
Since 2010 Clooney has been employed by Britain's Doughty Street Chambers, where she specialises in public international law, international criminal law, and human rights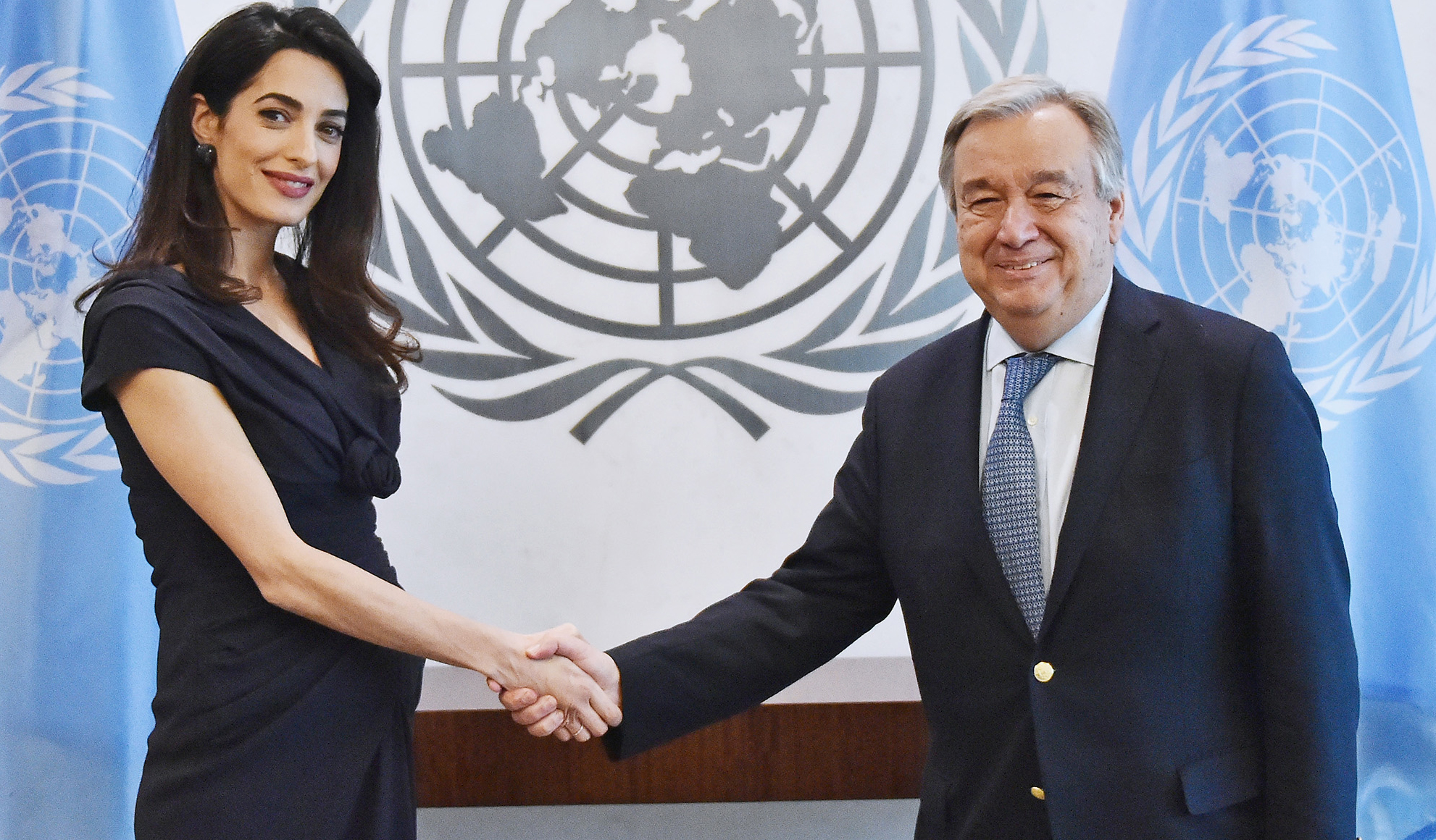 She has famously defended government leaders who've gone to gaol but also for advocates on behalf of neglected and exploited groups.
"I want to work on cases that I feel the most passionate about," she said in an interview with NBC in January 2016.
As an international criminal lawyer, Clooney has defended government leaders who've been removed from power, including former Ukrainian prime minister Yulia Tymoshenko and former Maldivian president Mohamed Nasheed.
Some of Clooney's more contentious clients have included the dictatorial King of Bahrain, Hamad bin Isa al Khalifa; Abdullah al Senussi, former intelligence chief to the late Libyan leader Muammer Gaddafi; and WikiLeaks founder Julian Assange.
Her work has also included advocating for Yazidi women, a religious minority in the Middle East which has been subjected to genocide at the hands of ISIS.
How do you become a human rights lawyer?
You don't choose to be a human rights lawyer from the start. Rather, you just become a lawyer (or a solicitor, or a barrister, or a jurist) … and then you choose to take on human rights cases.
That's all there is to it: you get to define yourself as a human rights lawyer.
There's no global regulatory authority acting as gatekeeper, no worldwide bar association that decides whether you get to take part in this rarefied profession.

Unsure of where to begin?
Well, it would be helpful to familiarise yourself with the Universal Declaration of Human Rights (UDHR), which is generally considered to be the foundational document for modern international human rights law.
Drafted in 1948 by the member states of the United Nations in response to the horrors of the Second World War, the Declaration is an excellent catalogue of the aspirations of humanity. The UDHR is not a binding legal instrument, but it is the inspiration for several subsequent treaties and conventions that do have binding effect, as well as the basis for many national laws that seek to promote and protect basic human rights.
A quick word of caution: don't become dazzled by the United Nations or the regionalhuman rights systems and mistakenly believe that you are only a "real" human rights lawyer if you undertake high-profile cases or practice at the international level. While serving as a treaty body expert or judge on a transnational tribunal is unquestionably prestigious, it's not the only way to be influential.
Work out what you are passionate about
Are you concerned about children having free access to basic education? There are groups that need your help to ensure barriers aren't imposed against ethnic minorities.
Do you feel strongly about women's rights? The domestic violence charity in your city would welcome your expertise in drafting restraining orders for abused women.
Do you passionately identify with the #Occupy protests? There are NGOs which work exclusively to promote freedom of speech and freedom of expression.
Are you fired up about efforts to marginalize certain groups on the basis of race or sexual orientation? Channel your anger into helping overturn these unjust laws.
Are you—like Amal Clooney—multilingual? Then I guarantee there is a refugee or asylum organization in your state or province that could use your help explaining the legal system to newly arrived migrants. All of these are examples of "practicing" human rights law—helping vulnerable groups claim the legal protections they are entitled to.